Building Changes works hard to advocate for effective statewide programs and policies that give students, youth, and families the support they need to thrive and obtain safe, stable housing. Behind Building Changes' policy and advocacy work are Megan Veith and Aaron Yared.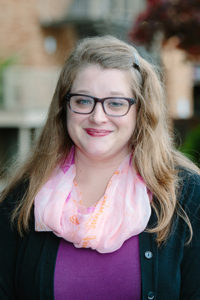 Megan Veith is Building Changes' director of policy and advocacy. For the past seven years, she has been a driving force in developing and leading the organizations' advocacy and policy priorities. This legislative session, she is focused on increasing the budget for the Homeless Student Stability Program (HSSP), a one-of-a-kind funding program that encourages collaboration between the education and housing systems to provide support for students and families experiencing homelessness. She is also advocating to reduce barriers for organizations to apply for HSSP funding. When more communities have access to HSSP, more students and families across Washington can be better served.
Aaron Yared is our senior housing policy specialist. He recently graduated from University of Washington School of Law and manages Building Changes' housing policy specialist. He recently graduated from University of Washington School of Law and manages Building Changes' housing policy and advocacy portfolio. This legislative session, he is focused on increasing the budget for the Washington Youth & Families Fund (WYFF), another important funding program that provides much-needed dollars to organizations throughout the state. With WYFF dollars, youth, young adults, and families who are experiencing homelessness and housing instability can receive much needed holistic support from organizations within their communities.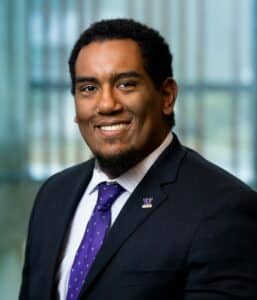 Megan and Aaron have been working closely with legislators in Olympia and our advocacy partners to ensure that the budgets for these two important programs receive bipartisan support in the House and Senate. They share updates on HSSP and WYFF, what we are looking forward to in the next month, and how supporters can help.
Where do things stand with Building Changes' legislative priorities?
Aaron: We are currently in the process of advocating for an increase in the budget for the Washington Youth and Families Fund (WYFF) from $4 million to $10 million. We have asked several legislators to submit a budget request on our behalf. Four of them agreed to do that for us — two in the House (Representative Cortes and Representative Levitt) and two in the Senate (Senator Trudeau and Senator Kuderer). As of right now, we're currently waiting to see if the budget request gets approved. There are still opportunities for us to continue advocating for the increase since budgets will be finalized at the end of April.
Watch Aaron's public testimony in favor of increased investment in HSSP and WYFF:
Megan: For the education work, our budget request to increase the budget of the Homeless Student Stability Program (HSSP) was submitted by Representative Fey. We are waiting to hear if that made it into the final budgets, which we'll hear more about towards the end of March after the state's revenue forecast has been released. We are hoping the legislature will also appropriate $10 million for HSSP, which will increase the current budget to $5.6 million from $4.4 million.
We are also advocating for a bill that would make improvements to HSSP—House Bill 1622, also sponsored by Representative Fey. And that bill passed unanimously in the House. It is now in the Senate awaiting votes. If House Bill 1622 gets approved in the Senate and then by Governor Inslee, it will give community-based organizations and school districts more access and flexibility to apply for HSSP funding.
We were very lucky to have Sunny Wonder, who is the deputy director of Council for the Homeless. She testified in support of the bill in front of the House Education Committee and did a fantastic job of really talking about the importance of HSSP. It means a lot to legislators to have real life examples from the constituents and people that are working on the ground with these programs.
Watch Sunny's public testimony in favor of House Bill 1622:
Why is increasing funding for WYFF and HSSP so important?
Aaron: WYFF is a unique program. It is one of the most flexible funds out there and it's focused on organizations that are trying to help their local communities, specifically for youth and families with children — two populations that often get overlooked by homelessness programs. WYFF also collects data as these programs are rolling out, which is awesome because we can take that straight to the legislature and say, "Hey, this method is working. We need to scale it up to the state level. We need to standardize this practice because we have data that shows that it works," which is something that you don't see in other programs.
Just this past funding cycle, WYFF received $37.5 million in requests, which is 13 times the amount we had available to give out. With WYFF's current budget, we were only able to fund six organizations. That is a clear sign that people want us to do more, we want to do more, and we can do more if the legislature will allow us to. We are making the request to increase WYFF's budget to $10 million so that we can help more communities provide tailored services to their communities.
Megan: We had a similar situation with HSSP where the Department of Commerce's Office of Homeless Youth (OHY) and Office of Superintendent of Public Instruction (OSPI) got three to five times the amount of funding requests they had available to grant out. It just really shows the importance of this program and how effective it is across the state. HSSP funds are incredibly flexible unlike other programs, and it's used across the state in both urban and rural areas. It really meets the needs of communities so they're able to tailor it to their specific communities' needs and wants.
HSSP is the first of its kind in its nation. With federal McKinney-Vento funding, some districts do receive dollars, but it's often very small and it doesn't cover nearly as much as students experiencing homelessness need it to. So HSSP is really important to have on top of McKinney-Vento funds. What makes it also really unique is that the program bridges support across systems. So it's not just the education system; it's the education and housing systems. It's really trying to focus on and building those connections and making sure the systems are talking to each other as opposed to the past when systems have worked siloed.
The increase in HSSP funding would really allow us to help identify more students. For example, we know that with the pandemic, a lot of enrollments went down, and a lot of schools couldn't connect with a lot of the students who were experiencing homelessness. More funding would also allow HSSP to reach more school districts and organizations across the state to support more students and families in communities everywhere.
Watch Megan's public testimony in favor of House Bill 1622:
With a little under two months left in the session, what can we look forward to?
Megan: We are halfway through session and we're almost at the first big cutoff where the bills have to be out of their house of origin. The state's revenue forecast is coming out soon on March 20, which will tell about how much money we're expected to have for our budget requests. Hopefully, they will be approved. If not, we will be doing more advocacy pushes in Olympia.
What can our supporters do to make sure that the budget requests for WYFF and HSSP goes through?
Megan: Before March 20, please contact your legislators and urge them to ensure that WYFF and HSSP are included in the final state budget at $10M each! When legislators hear from their constituents, it really makes a difference. Also, be sure to follow Building Changes on Twitter, Facebook, and our Take Action page, where we post action alerts. Sign up for our emails to be kept up to date with our work and the status of our budget requests.